>> October 24, 2016
Malpua is a North India's sweet dish. Malpua immersed it in the sugar syrup and served with rabri. There are various types of method and different versions too in different parts of India.


Cook Time : 20 Mins
Ingredients for Chenna / Panner
Milk - 4 cups
Sour curds/yogurt - 2 tbsp
Method : Mix curds and curdle them leave for few mins and strain as shown in the picture.
Ingredients for Malpua batter
Fresh chenna/Paneer - 4 tbsp
Maida - 1/4 cup
Water or Milk - 1/2 cup
Cardamom powder - a pinch
Baking soda - a pinch
Method : Mix flour, chenna/paneer , cardamom powder and add water stir well without lumps (used hand blender) make a medium thick batter and keep aside
Ingredients for Sugar syrup
Sugar - 1-1/4 cup
Water - 1/2 cup
Method : Sugar and water bring to boil till one string consistency. Remove from the stove
Ingredients for Rabri/Rabdi
Milk - 1/2 cup
Fresh cream milk - 1/2 cup
Sweet Condensed milk - 2 tbsp (adjust as per taste)
Milk + Saffron - 1 tsp
Method : Bring to boil till becomes medium thick. Add blanched chopped pistachios
Malpua Method
Heat oil or ghee in a semi flat pan. (do not over heat)
Pour 1tbsp batter into ghee /oil gently. Cook on low flame until becomes golden color, trun on other side and cook
Remove malpua and immerse it in the sugar syrup and leave for 2 mins drain and serve into plate
Pour the Rabrid hot or cold garnish blanched chopped pistachios
Repeat steps 2,3 &4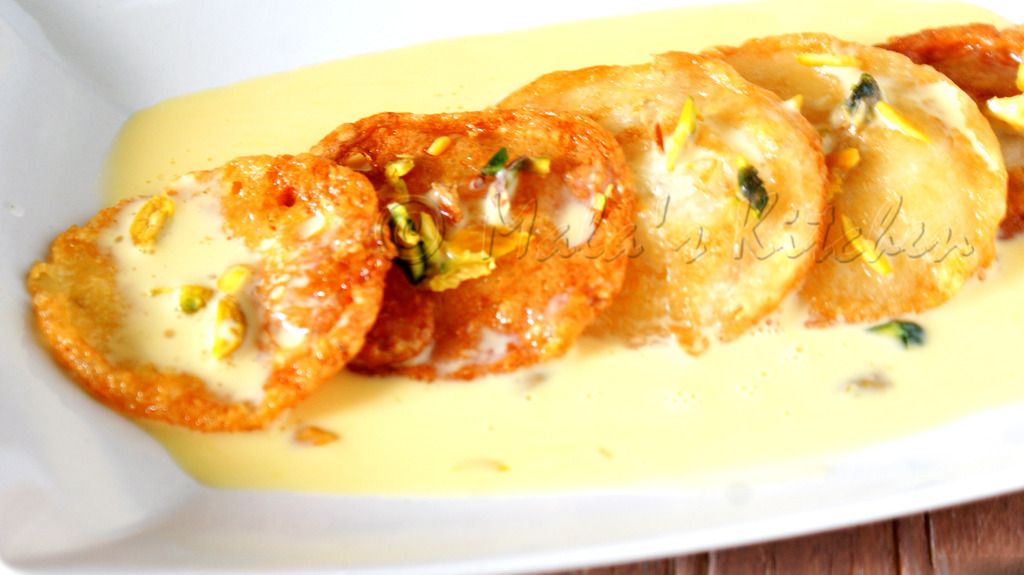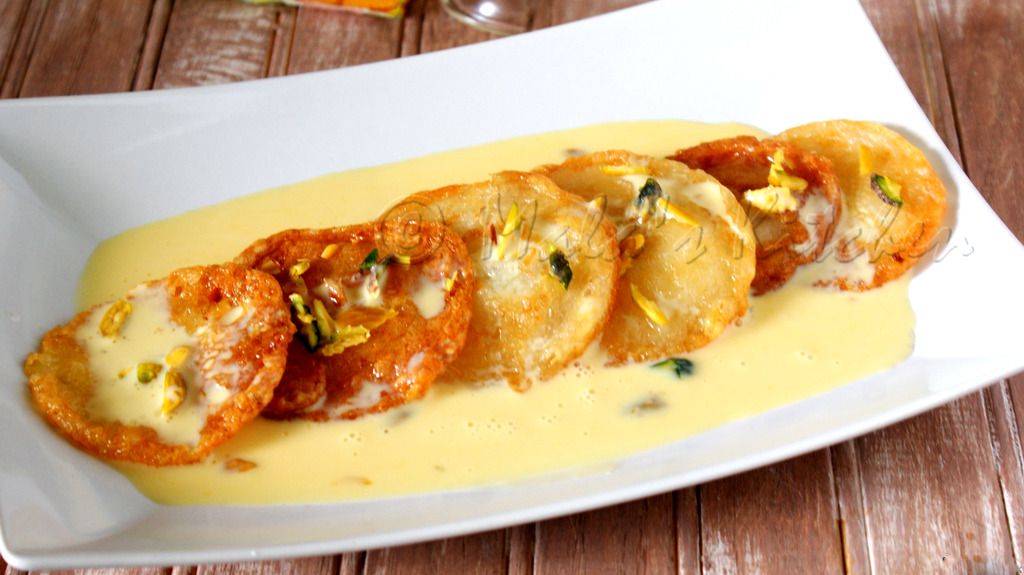 | Copyright © Malas - Kitchen 2016 | | All rights reserved
Read more...